It was always going to be the case, who ever won, that the below transactions on twitter by Essendon and St Kilda would progress into a "I told you so" moment.
Pretty successful #mystkilda pic.twitter.com/AqEBfSqxDH
— St Kilda FC (@stkildafc) April 19, 2014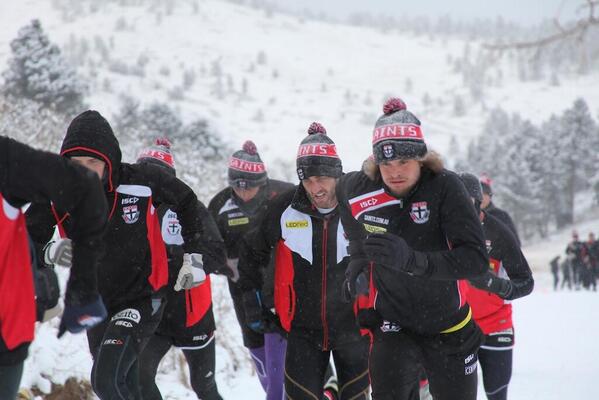 We are calling that a win for St Kilda in the 'Social Media' stakes. Well played Saints.
Went into their archives from December to 'return serve' in the best possible way.
Meanwhile, in the 'Olde Worlde Media' sector, where you pay for content that either
- has been mentioned and discussed to conclusion already, or
- has been generated with a 'barrow to push' and an agenda to drive,
we found this headline and story interesting.
Footy dad charged $18 to take his two-week-old baby to AFL match at Etihad stadium
A DAD who took his two-week-old son to an AFL match at Etihad Stadium was outraged to be told he had to buy an $18 seat ticket for the bub.

[The] Point Cook father ... said two different Etihad Stadium staff members told him to buy a seat for son ... even though he was in a bassinet pram.
..."We paid $30 to park at the ground, went to scan our tickets and the girl said, 'Hang on, have you got a ticket for the child?'" he said.

"I said, 'He's only two weeks old', and she said, 'It doesn't matter, you have to pay $18 no matter what because they have changed the rules'.
"

He said asking parents to pay $18 for babies was "over the top with greed".

"They're ruining football for young families," he said.
All wonderful 'hot button' quotes in this era of 'variable pricing is killing footy' media bollocks we live in.
The reality is that it is NOT that the AFL are pricing families out of football, but that one stadium owner has not understood the pricing rules, and not trained its staff in the proper protocols.
READ the rest of the article folks...!
All we can say about the 2 week old is...
The article itself... rubbish journalism.
RESULTS:
A bad week on the tips, with only 4 tipped correctly
With so many close games tipped, our expectation of good tipping was low.
A few more changes to the table, but only minor.
St Kilda and the Bulldogs change back again to where they were 2 weeks ago.
Collingwood re-gain 4th from North Melbourne after both beating them on field, and also winning against the tip.
Port Adelaide also continue to rise. We have them now our 6th best team, but more importantly we expect further elevation in the rankings soon.
They are currently only 32 points off 4th, and have ranking point rises of +30, +37, +28, +45 and +33 over the 5 games this year.
NEW FEATURE - PREMIERSHIP WINDOW:
Following on from
these squiggly lines
that show where teams reach a potential 'premiership window', and further analysis by
Damian Little on a similar thread
, we now offer a more easily-digestible, uncluttered, single-week view of the teams in the 'premiership window' for 2014.
The principle is this:
- A teams attacking power is used to position them on the Y-axis, using the ratio of their attack relative to the competition average. The more attacking you are, the higher you are plotted.
- A teams defensive strength is used to determine the size of the circle, using the ratio of their defence relative to the competition average. The more defensive you are, the smaller your circle.
- A team positioned above the black line is considered 'inside the premiership window' with teams with the smallest dots having the better chance of winning a premiership.
In this weeks window we rank Geelong as most likely (because of the combination of 'above the line' plus 'smallest bubble'.
They are followed by Port Adelaide, and then Hawthorn and Adelaide.
We will update this regularly through the season.