Week two of the FMI FootyCountdown begins. All footy, every day until it starts again.
15:

ART - COMMERCE INTERFACE
Another Wednesday update with the focus on Footy art. And if you haven't seen Chris Rees' work then you may well be living a sheltered footy life.
Chris is a graphic designer from Hobart who recalled the great images from his childhood footy cards and thought more of them than those moment in time.
Working from those cards and tweaking and changing the layout or presentation, Chris has transformed the humble footycard of yore into all sorts of modern goods.
Most principally the t-shirt, but also mugs, phone covers and more.
Light and shade, a reflection of, and a nod to, the heroes of the past. The work of Chris' is well worth your looking into.
The links here are where more has been written, said, but not sung (yet).
Blethyn specs a tall order
Bare Bones...
Shelf Life
1970's Footy Enigmas
All the stuff in the links above and more are available from his RedBubble store.
Before diving in there, have a look at
his own webpage first
for a easy to navigate view of all the designs. There is a RebBubble link there for you to jump off and shop!
Finally, the man himself talk footy and footycards
in a Footy Gospel podcast
.
16:

TUESDAY FOR THE PEOPLE - GENERATIONAL
Earlier this week, the FootyCountdown started with the 'Dad and Mog Pod', and for today's update we return to 'Dad' of that pod.
I came to meet John Carr through football, and a chance to see a game at a local ground. Together the idea formed into a
meet-up of people
who liked footy and would go to the Western Oval for a practice match. Which turned into a
moderate success
.
Beyond football, and blogging and podcasting, John is an interesting character, generous of spirit and his time.
Further, he is very 'public' in profile for someone not paid for the media life.
Today's update about people of footy is John's story of growing up Richmond. Read and enjoy.
And for John and others of the Tiger faith who have been through such hard ties - Go Tigers in 2016!
17:

HISTORY MONDAY -THE KICKING KANGAROO
Following on from yesterday's VFA update to the FootyCountdown, its time for a bit more VFA talk. This time about a VFA player from the pre-VFL era that went overseas to play football. Not Australian football though.
A Melbourne player who left after 4 season and went overseas to study. Who fell in to American football by accident, and eventually becoming a star in its formative years.
Adam Woolcock of the Guardian tells more of the life of Patrick O'Dea in the story published in 2014 here...
Further reading is available on the
Australian Football
website, as well as at
Demonwiki
, "the most comprehensive history of the Melbourne Football Club".
18:

SUNDAY - A DIFFERENT GAME
There once was a time when Sunday in Victoria was reserved for footy of a different type. Not the Women's game, nor any games from around the nation.
But for suburban footy, with different teams and players, and only 16 a side.
Sunday was for VFA footy. And it was all but protected by state laws that the VFL was for Saturday only. It took some wheeling and dealing, and plenty of bravado for the VFL to horn in on the VFA's territory.
And VFA footy was a different game indeed. Smaller grounds and 16 a side made it interesting watching. Faster and a little more open, and as a 'second' / 'parallel' tier it also attracted a different fan and player. Consensus says it was rough and tough, and today's FootyCountdown update shows that.
Its the story of the 1976 Grand Final between Dandenong and Port Melbourne. Normally these two were intense enough rivals, but as the Australian Football website points out, this game was a form of revenge.
The full story is in the link immediately below, but a snapshot of the VFA and the context of the 'revenge' is further below.
"Nine years earlier, in the premiership deciding match of 1967, Dandenong and Port Melbourne had, all too literally, fought out one of the ugliest and most violently tempestuous matches in the history not only of the VFA, but of the sport of Australian football itself. At one stage, the atmosphere became so spitefully unpleasant and the actions of the umpire so controversial that Port captain-coach Brian Buckley threatened to remove his players from the ground, only to be ordered by club officials to 'get on with it'."




"VFA football in the mid-1970s was enjoying something of an Indian summer, brought about to a large extent by its policy of scheduling fixtures for Sunday afternoons when, as far as 'big time' football in Melbourne was concerned, it was 'the only show in town', both 'live' and, perhaps even more significantly, on television. The fact that the VFA was so popular contributed not only to the substantial crowd which showed up for the 1976 grand final, but also helped to make the match itself one of the most famous (or infamous) and widely talked about of the 1970s."
Absolutely no condoning or promoting of the violence in the video of the game below. It is horrific viewing. But it was footy back in the 70's. At all levels, not just the VFA.
It was a Grand Final like no other, with players and officials fighting. Later, play continues while a dog runs around chasing the footy. Shambolic stuff.
Footy is better for being cleaned up of the violence seen in this game.
But it is posited that footy is worse off for the events that happened leading to the end of the VFA. Where competition was stripped away from the VFL in Victoria. The precursor to the VFL becoming nationally dominant and rendering other state leagues to 'also rans'.
19:

SATURDAY FUN - TLR
A late contribution this Saturday to the FMI FootyCountdown, but nonetheless a good one.
It's the final blog post from 2015 from The Lone Ruckman (who is also worth
following on Twitter
).
The Lone Ruckman (TLR) is a shadowy anonymous type who contributes weekly during the season to his blog with a keen eye for the odd and absurd.
Its a blog well worth following and reading in season.
And if you like his stuff - get a shirt / mug etc from
Redbubble
TLR has copped the highest of praise on a Footy Gospel podcast, where Josh 'the Armchair Expert' described TLR as "like Titus O'Reilly, but funny".
And you cant get a better review than that!
So as an introduction to TLR's blog... here is the last post from 2015.
Its a ripper.
20:

FRIDAY FOOTY - CHOOSE YOUR DELUSION
This Friday night footy part of the Footy Countdown could really be added to the Saturday Funday post tomorrow, purely because it was inspired by a bit of Brian Waldron nonsense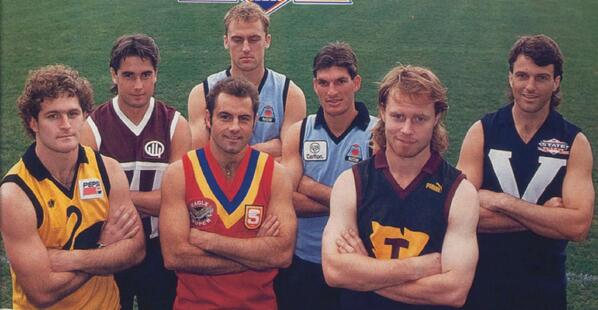 The Waldron idea was to play State of Origin football in February, to seize on the vacant sports window post test cricket and BBL.
Right when players are getting fit for the proper season, as well as adjusting to new team rules and tactics.
Capital idea!!
Of all the stupid concepts.
State of Origin is dead, not because the players dont want it (and they dont), and not because there is no decent time for it in the schedule (there isnt').
It is dead because 'Club Fußball uber alles' (pardon my sloppy German).
Club footy rules the roost. The dollars, the fans attention, the lot. Anything other than the Premiership season is a sideshow.
Its dead, and it only lives in the history books and on YouTube.
Footy Countdown Friday night football... Choose your side
SA
Victoria
WA
*Apologies WA folk, there is no full WA vs Vic game on YT (that I could find)
21:
YOUTH CULTURE - D&MP Ep.1 [02/2016]
Last week #FootyCountdown started with a podcast episode, and so too this week.
It's Podcast Thursdee!
Not content with running a blog on footy ephemera, John of
The Holy Boot's Football Emporium
(known here as Dad) now moves into podcasting.
But this not your ordinary podcast, laden with specifics about players or game tactics, nor focused on a single club, and certainly not full of Dreamteam and other fantasy footy minutiae.
Instead John enlists the help of his daughter ('Mog') to talk all things footy that are relevant and of interest to footy fans from a more family focused viewpoint.
It is about the experience of football fandom, and the footy rituals and culture that gets threaded through the generations.
And that makes it an important podcast to follow. An overall charming and different view of the great game.
Click the soundcloud tag below and wander along footy trails with Dad and Mog.