Three thousand two hundred and thirty six.
Twenty two thousand six hundred and fifty three.
Five hundred and forty three thousand six hundred and seventy two.
No matter how you write it - years, weeks, days, hours - its a long long time between drinks.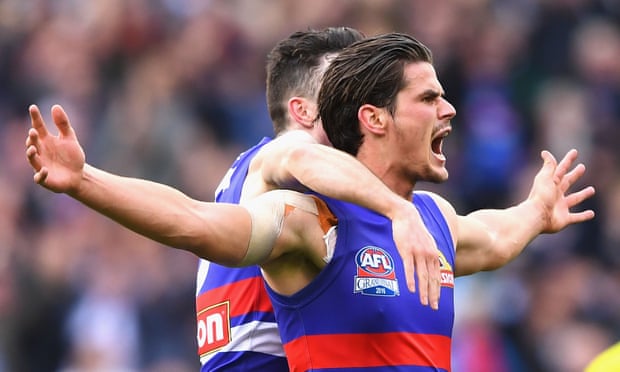 So we didn't tip the winner, but when the story of winning, after 62 years, is a good as it was... who cares about tipping.
PREDICTED RESULT
ACTUAL RESULT
RATINGS ADJUSTMENTS
Sydney/SMFC
by
20
pts
W Bulldogs/FFC
by
22
pts
Sydney/SMFC
-15
W Bulldogs/FFC
+27
So the final rankings table for the end of the year rounds out with Sydney on top, and the Western Bulldogs 7th but approaching 6th placed Hawthorn.
RANKINGS
Pre:
R 28
TEAM
PTS
ΔPTS
ΔRK
1
Sydney/SMFC
1428
-15
2
Adelaide
1401
0
3
GWS
1378
0
4
West Coast
1325
0
5
Geelong
1316
0
6
Hawthorn
1304
0
7
W Bulldogs/FFC
1272
28
8
Port Adelaide
1182
0
9
North Melbourne
1175
0
10
Collingwood
1096
0
11
Melbourne
1022
0
12
St Kilda
1017
0
13
Richmond
972
0
14
Fremantle
902
0
15
Carlton
886
0
16
Gold Coast
856
0
17
Essendon
693
0
18
Brisbane Lions
629
0
Sydney were a 3% chance to finish top, and a finals lock at 90%.
Heading into the finals, the below table was published that listed the chance of making the grand final for 2016 to be 58% for Sydney and only 1.33% for the Bulldogs.
TOP 8 - % CHANCE TO PLAY IN WEEK...
Adelaide
100
86
43
25
Geelong
100
34
87
34
GWS
100
54
74
50
Hawthorn
100
66
74
21
North Melbourne
100
14
2
1
Sydney/SMFC
100
46
81
58
W Bulldogs/FFC
100
24
7
1
West Coast
100
76
32
9
WK 1
WK 2
WK 3
WK 4
Unpublished then, but calculated, was the chance of winning the Grand Final from the eight teams involved after round 23.
Sydney were expected to convert their 58% appearance chance into a 41% chance to win. Clearly the best premiership expectation of the eight teams.
The Bulldogs on the other hand had only a 0.43% chance of winning the flag. Not the lowest (which was North Melbourne at 0.13%), but a clear gap between themselves and the next best.
In working out those chances, the game outcomes are determined by expecting a team to perform to its ranking level, with a variance around that level. Both teams have a game outcome determined using that method, and where the variance overlaps is where a lower ranked team is likely to defeat a higher ranked team.
So as an exercise in plotting this Bulldog Premiership Coup from 7th place, the expectation calculations have been worked backwards and the tables below generated.
In these, the idea was to determine
how far over and above their rankings
the Bulldogs would have had to play to win against the odds.
Away at Subiaco aghainst last years runners-up.
At the MCG against the reigning premiers.
Away again against the League-built machine.
And finally at the MCG, against the minor premiers and the best team under the FMI rankings.
The below '
Performance rate to achieve result
' works the known result back into each teams rating to determine how much over (or under) their current ratings both teams played. Assumption on performance based on a 50/50 split of performance - i.e. Bulldogs improved performance and opponents reduced performance having an equal contribution. The rating they would have played at to achieve the result is then compared to their pre-game rating, generating the differing percentages.
W Bulldogs/FFC - Finals Run
ELIMINATION FINAL
SEMI FINAL
Expected Result
Eagles by 29
Expected Result
Hawks by 12
Actual Result
Bulldogs by 47
Actual Result
Bulldogs by 23

Performance Rate to achieve result

West Coast
-28.2%

Performance Rate to achieve result

Hawthorn
-13.2%
W Bulldogs/FFC
32.0%
W Bulldogs/FFC
14.5%
PRELIMINARY FINAL
GRAND FINAL
Expected Result
Giants by 29
Expected Result
Swans by 20
Actual Result
Bulldogs by 6
Actual Result
Bulldogs by 22

Performance Rate to achieve result

GWS
-13.0%

Performance Rate to achieve result

Sydney/SMFC
-14.6%
W Bulldogs/FFC
14.8%
W Bulldogs/FFC
16.9%
In all four games, The Western Bulldogs performed at levels consistent with the top two ranked teams, and for the West coast game they played well beyond this seasons best ranked team.
Which is a certain way to win yourself a premiership.